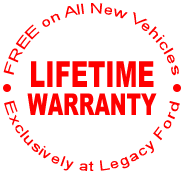 Legacy Ford's New Ford vehicles have this free coverage for life.
It means that for as long as you own the vehicle, regardless of years or mileage, the engine, transmission, drive axle system and internally lubricated parts of the powertrain are protected.
Already Ford has one of the leading warranties in the industry. Our provision here at Legacy Ford takes this even further.
And this is exclusive in our local market.
Ideal for trucks
Powertrain coverage really comes into its own on a truck. And we're well-known for our trucks here at Legacy Ford. With over 1000 square feet of inventory space, and a third of it given over to trucks, it shows how popular they are here in Texas.
Ford trucks are built tough for work and reliability, and they're used extensively given the industries present in our local economy, as well as the popular leisure pursuits on a weekend.

There isn't one. All you have to do is make sure that your vehicle services, as recommended by Ford in your owner's manual, are performed here at Legacy Ford. This is already standard practice by the bulk of our customers due to the exceptional level of care provided by our award-winning team of service advisors and technicians.
In terms of costs, a small $100 repair deductible applies on each visit once our powertrain coverage is triggered. This is small change if it means that your reliable car or truck with lots of miles continues to run as good as new for years to come.
* Hybrids, SVT vehicles,commercial used vehicles, and lifted trucks are not included.